BESTVA Elite 2000W COB SAMSUM LED Chips LED Grow Light Full Spectrum for Greenhouse Hydroponic Indoor Plants Veg and Flower
BESTVA Elite 2000W COB SAMSUM LED Chips LED Grow Light Full Spectrum for Greenhouse Hydroponic Indoor Plants Veg and Flower
Description:
Features:
Full Spectrum: We did lots of experimentation to ensure that this full spectrum design promotes plant growth. It includes universal Blue Red IR UV and white light provide everything plant desire in the natural sunlight. The expensive IR UV led promote plants to defense mechanisms, blue and red led is essential light for plant growth. Upgraded spectrum replaces the generic spectrum of our classic DC series grow light, the ratio of red and blue changed from 8:3 to 1:1, specifically designed for medical plants.
Two Modes: VEG for growing, BLOOM for seeding and flowering. We recommend lighting 15-18 hours per day for seeding and growing , and lighting12-14 hours per day for flowering.
Unicorn LEDs: The great building will be your first impression, 5mm thickness integral aluminum structure radiator instead of multiple dispersed radiators or pure fans. 
Extremely High Power: Adopt Dual-Chip(10W) LEDs which has highest PAR/LUMEN output . Douple chips 10W LEDs is much brighter and more efficient than traditional 3W and 5W LEDs.The lights will provide your plant with the largest source of light to ensure your plants grow quickly and healthy whatever the weather is.
Deep penetration : Good lighting penetration , can penetrate to the deep of the plants
Cleaning: When cleaning the outside of your light and its components, first shut down your light, then unplug the power cord. Then dampen a clean, soft, lint-free cloth to wipe the light. Avoid getting moisture in any openings. 
Repairing: If your light needs service, please contact us. Opening the light to inspect or repair with our permission will not affect your existing warranty. However, if you open the light or install items in it without our permission, you risk damaging your light. Such damage isn't covered by the limited warranty.
Best Service: We are a professional LED light manufacturer with strong R&D team and many light testers. 1 years warranty plus 30 days money back guarantee. If you have any problems, please feel free to contact us. We will provide you with a completely satisfying reply.
Specifications:
Item Model: Reflector 2000W (Elite Series)
Dimension: 558 x 290 x 70 mm (22 x 11.4 x 2.8 inch )
Replaces a 1400 watt HPS/MH
Product Weight: 7.1KG(15.6LB)
Full spectrum for all stages of plant growth
Core Coverage Area: 5.4ft x 5.0ft at 24" Height
LEDs Angle: 120°
200pcs Dual-Chip SAMSUM LEDs
Avg. Power Draw: 401W
Input Voltage: AC85-265V
Working Temp: -68~104℉
Frequency: 50-60Hz
Lifespan: 100,000 hours
Plug Type:AU , EU , JP , UK , US-Type Available
Surface Material: Anti-oxidation aluminum
Warranty: 1 years
Certification: CE, RoHS
Best Spectrum Wavelength: Red(620nm;660nm); Blue(450nm;460nm); Orange(610nm); IR(730nm); White(6500K) ,UV(410nm).
Ideally suited for various stages of plant growth, and can be a good indoor garden soil or culture solution cultured plants.
Attention:
Indoor Use Only - Not waterproof, keep your light away from dampness.
Hanging - Set up your light in the operating environment that allows adequate air circulation. 
Extremely Bright - Do not look directly at the LED bulbs when the light is working. 
IR chips - Looks very dim. Human eye can not see IR very clearly, please wear sunglasses to check.
Tips for increasing lifespan - please let the light have a rest for about 20 mins after 7-8 hours working.
Customers and Tax:
1. All the product declared as "LED Light "and write $30-$40 USD on the invoice if you do not have other requirements.
2. We are not helping the buyer pay imported tax, different country has a different rule, so pls tell me your special requirement to avoid you pay tax.
3. The price is not including remote area shipping fee, if your address is the remote area, we will require you change new address or need charge extra 35-40usd/pcs.
Applications:
Hydroponics, horticulture, greenhouse lighting, planting, breeding, breeding, farm, flower exhibition, garden, potted plants.
1) A greenhouse.
2) Seedlings and clones.
3) The main plant lighting.
4) Supplementary lighting plants.
5) Plantations in public areas - malls, lobbies, restaurants commercial buildings or anywhere, plants need more light diodes.
Package includes:
1 x BESTVA Reflector 2000W LED grow light
1 x 6ft Power Cord
1 x Hanging Kits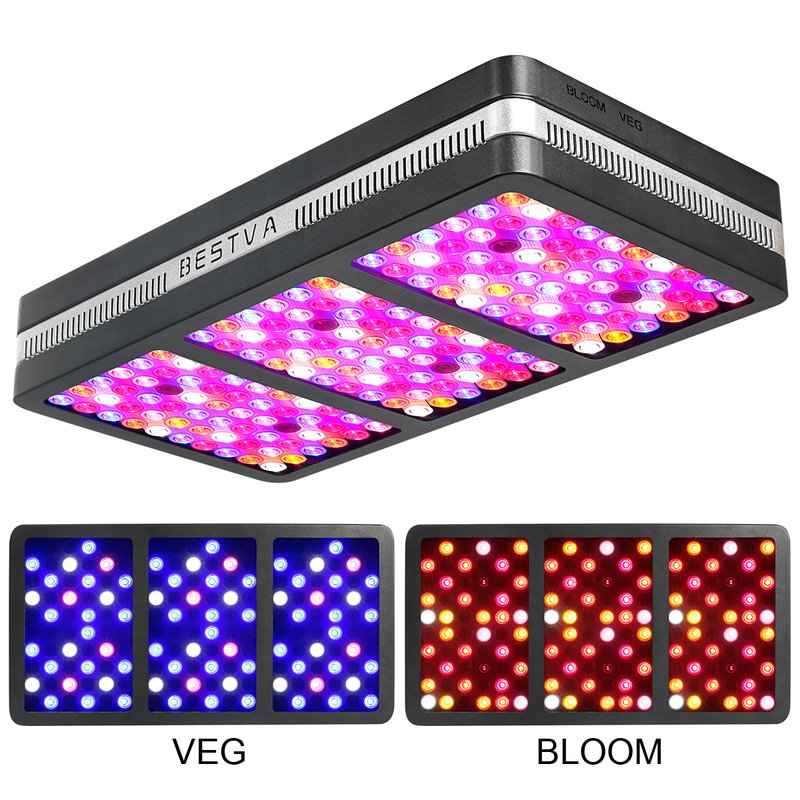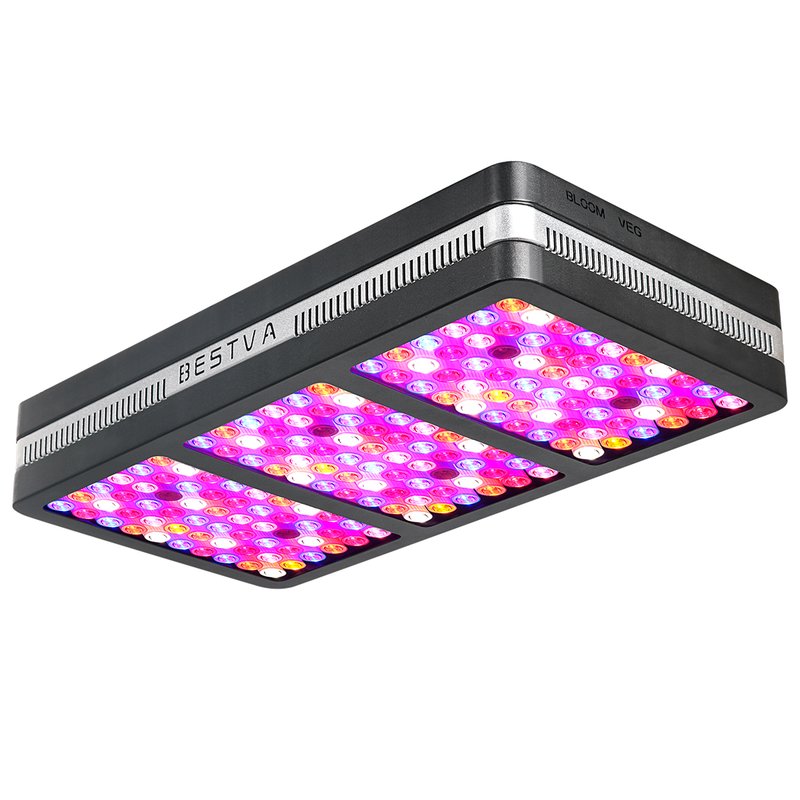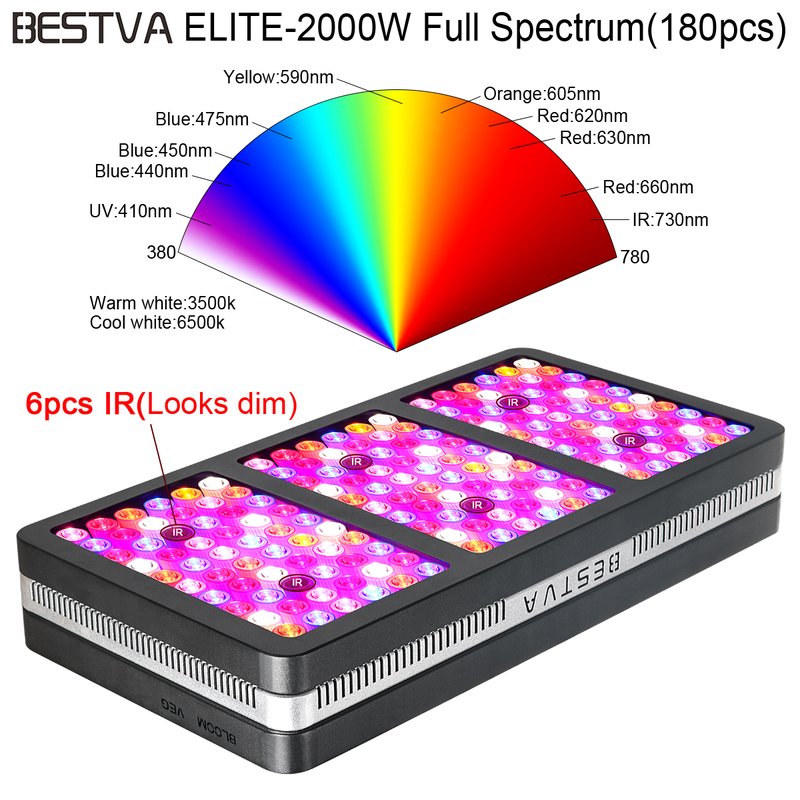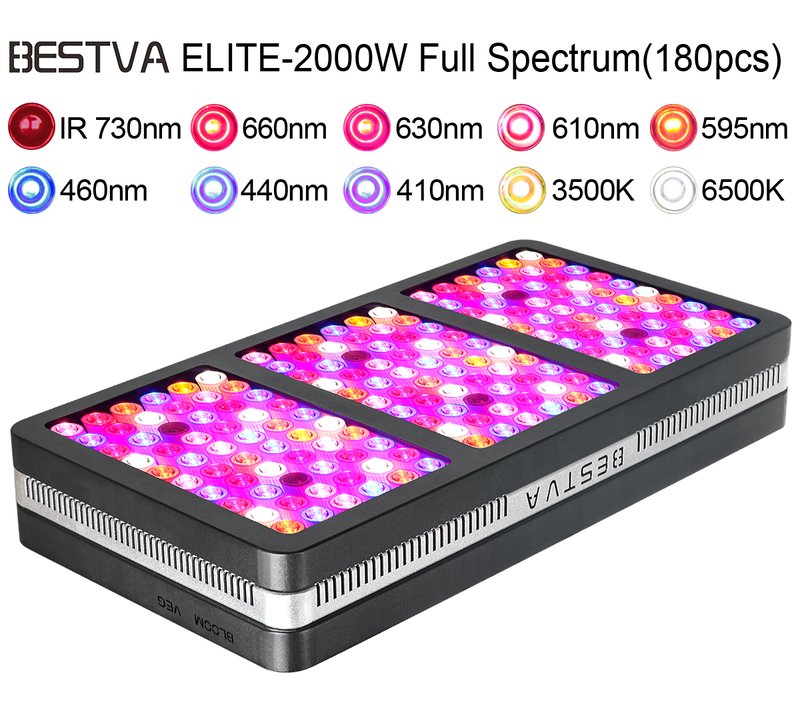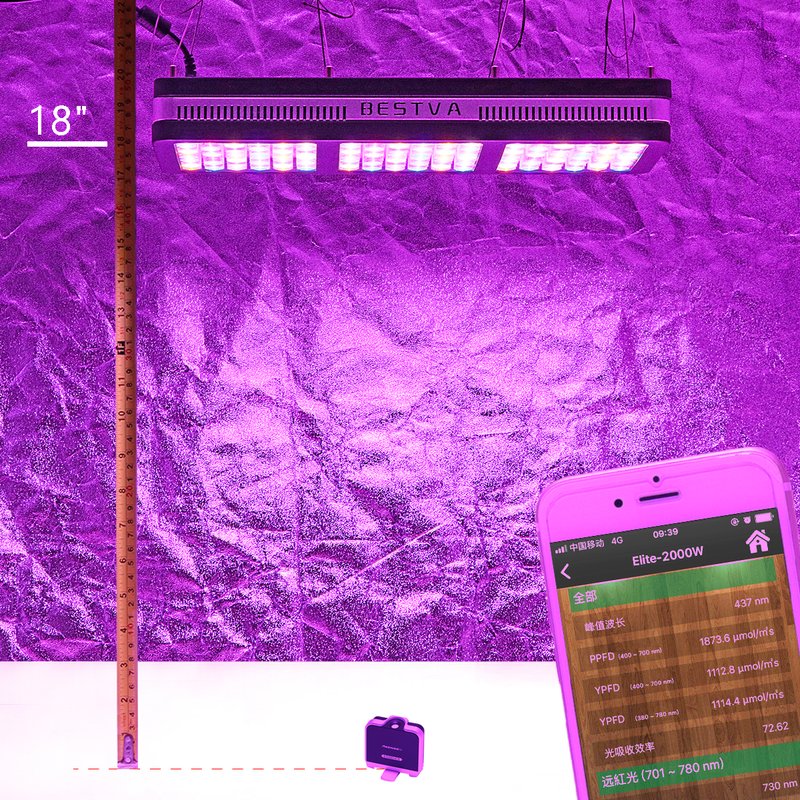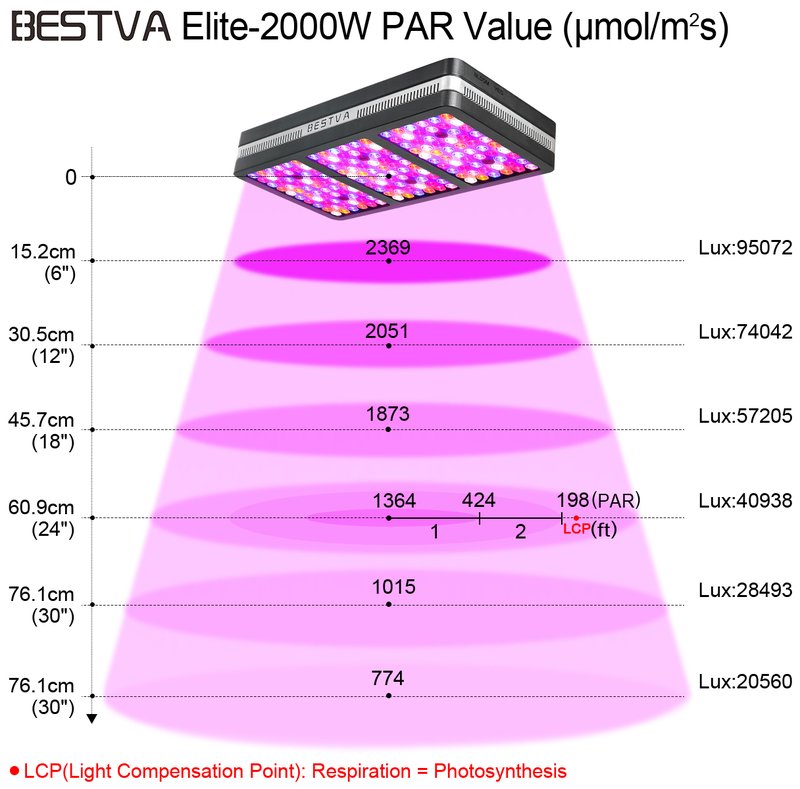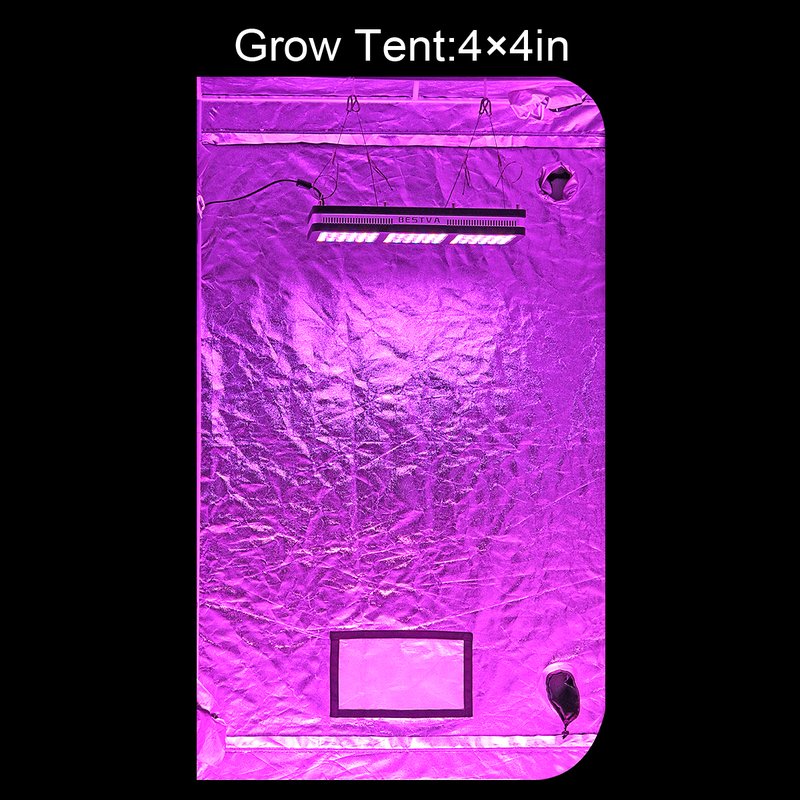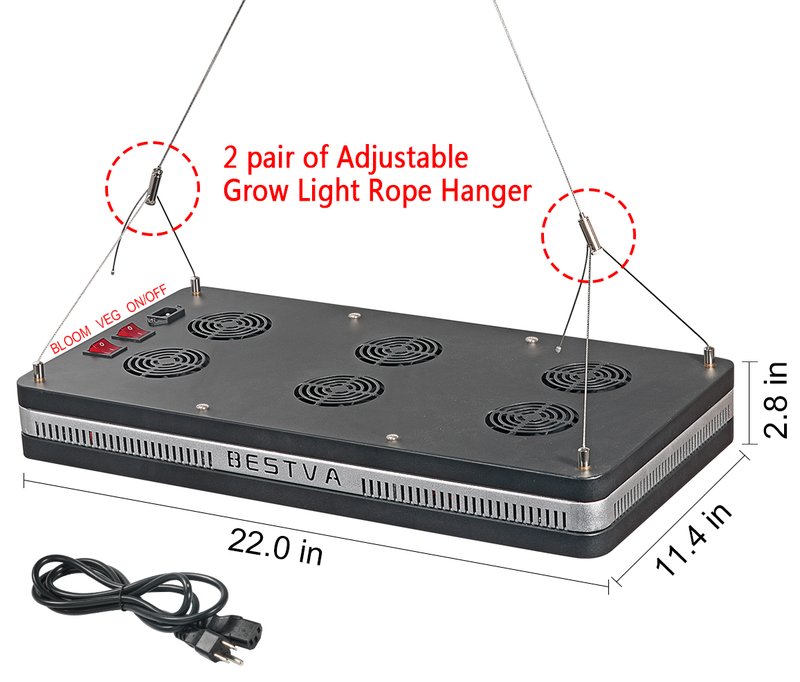 Reviews